RESPECT Movie Review: Aretha Franklin & The Sins Of Her Father
This is my RESPECT Movie review, so if you haven't seen it yet…… proceed with caution!
First of all my emotions were all over the place. I cried. I laughed.. I was angry..and at times I was ready to shout my mask off! That other girl from the South Side of Chicago Jennifer Hudson was born for this role! Period!
Here are a couple of my takeaways…
Growing up in the Baptist church and with a father who loved some good preaching, I've heard stories about Aretha Franklin's father, the legendary CL Franklin all my life. Those stories were usually about his iconic sermons, or how all the old school singers use to hang out at his Detroit home.
He lays the sins of the parents upon their children; the entire family is affected—even children in the third and fourth generations.- Numbers 14:18
RESPECT showed us that even though CL Franklin (portrayed by Forest Whitaker) was a world renowned preacher, it was Aretha's mother Barbara Siggers Franklin (portrayed by Audra McDonald), who was Holy Ghost filled and who took the time to nurture Aretha's gift. Barbara was a gifted piano player and according to the late Mahalia Jackson, was one of the finest gospel singers in the country.
A lot of Aretha's demons were the fruit of her father's sins. The drinking, the sleeping around etc.. The film showed Aretha's struggle with alcohol and men, something she got from her father, who had his drink and loved his women. In one scene during the film, while sitting at a hotel bar, CL Franklin tells his daughter that she no longer was full of the spirit. "You're no longer full of the spirit. Look at you. You're drinking and sleeping around." Aretha replied, "Just like you."
Daddy Franklin was controlling, had a quick temper, and abusive. In the beginning he controlled everything about Aretha's career and personal life. It's revealed in the film that that is one of the reasons why Aretha's mother left him and moved back to Buffalo, NY. CL was something else!
Ted White (Marlon Wayans did some of is good acting for this role), Aretha's first husband, just like her daddy was controlling. abusive, and quick tempered. Research shows that women tend to pick men like their father, so this didn't surprise me. But, anyway. the toxic relationship with her father and husband birthed some of her most iconic songs… RESPECT and Ain't No Way.
As powerful as her voice was on stage.. in the presence of her husband or father she didn't have one. Music was her way of speaking what was going on in her tormented soul. When Aretha finally found her voice she sent both of those demons packing! Yep demons! I said what I said. She prayed to the Lord, packed up those liquor bottles and headed to the ONLY place where her voice was never silenced and her love and devotion was never abused… THE CHURCH!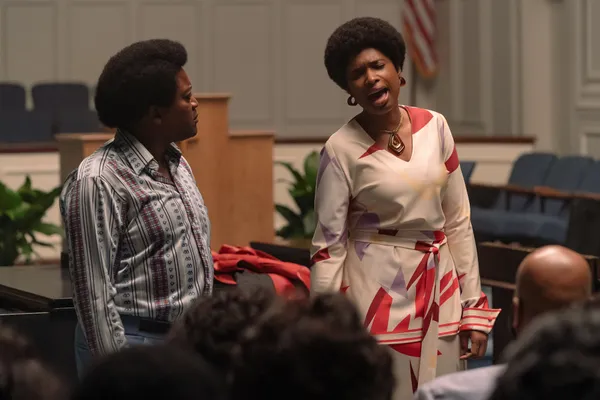 Shoutout to the late legendary Rev. James Cleveland ( Chicago's own!) who pulled Aretha out of her darkest moments.. he told her from the beginning "music will save your life!" and those words birthed her biggest selling album of all time "Amazing Grace"
In theaters now.