The Ladies of The Color Purple on the cover of ESSENCE
Check out Oprah, Taraji P. Henson, Fantasia, H.E.R, and Danielle Brooks aka the ladies of The Color Purple on the cover of ESSENCE Magazine Holiday Issue.
ESSENCE had Oprah Winfrey herself lead the discussion about the experience the ladies shared making the movie. "One of the things I'm most excited about is what The Color Purple will do for the -sisterhood," she says. The other women nod in agreement. 
Oprah Winfrey: How did you all respond to learning that you were going to be a part of The Color Purple?
Danielle Brooks: Finding out that I got the role of Sofia, for the second time, was the best gift ever. It was two days after my birthday. They tricked me! They were like, "You've got one more call with the director, Blitz Bazawule." I'm thinking, I've had so many calls—what are you talking about? All of a sudden, Ms. Oprah Winfrey pops up on the screen. I was very shocked, like OMG! She chose me for this!
H.E.R.: I was so excited. I was a little afraid—not afraid, but I was nervous. I was taking on so much. But everything happens for a reason. And I'm so grateful. I learned so much being around you guys. I'm just ready to do more.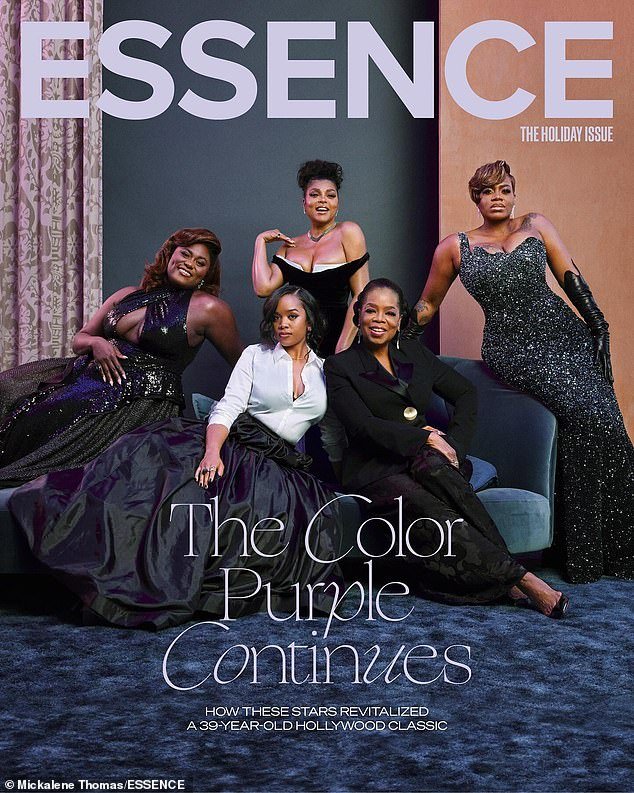 Taraji: I saved my recording. I don't answer calls from numbers that I don't know, and Oprah's number comes up unknown. Tyler Perry hit me and was like, "Are you answering your phone?" I was like, "Why?" He said, "Girl, just answer the phone!" I'll never forget the day. I was so nervous. What do you say to Oprah? I was practicing my, "Hi! Hello! Yes, Oprah!" And finally she came on the phone and told me, "Shug Avery is coming to town!" It was the best moment ever.
Fantasia: I started shouting. I ran through the house. I had just had my baby and was trying to bounce back. I kept thinking, This is not going to come through. In the beginning, I wasn't going to take the role—because I knew I was going to have to step into some things that I'd buried.
Oprah: I'm so glad you decided yes. Did you know that when we did the original film, Quincy Jones went to Tina Turner to play Shug Avery? Tina said, "I cannot step back into that world. I've already lived it with Ike." Margaret Avery stepped into the role and did a magnificent job. I understand that you have to relive a lot of trauma. Was that the case for you during this filming, Fantasia?
Fantasia: It was. But I had an amazing cast to support me.
The Holiday Issue is out now.