Expedia Reveals the Top Trending Holiday Travel Destinations
Holiday travel planning is underway!
New data released today by Expedia® reveal the top choices for Thanksgiving and Christmas escapes are sunny beachside destinations across Mexico, the southern U.S. and the Caribbean.
Mountaintop getaways to Utah and Colorado are also shaping up to be popular for travelers this holiday season. While many of these destinations are already seeing strong demand, it's important to know that it's not too late to book.
Beach destinations are always a favorite for the holidays and 2021 sees this trend going strong. The bottom line for travelers: if any of these hotspots sound appealing, be sure to firm up travel plans soon for the best options and availability.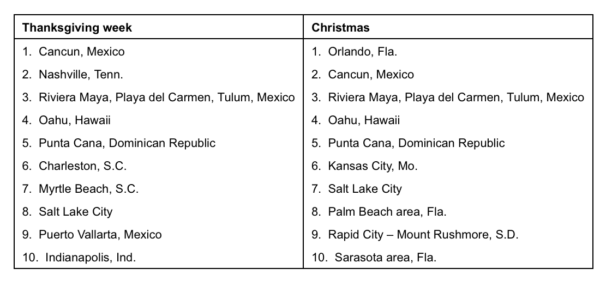 Not all travelers are heading to their normal vacation spots, however. Looking at which destinations are seeing the biggest jumps in terms of search interest for Thanksgiving and Christmas proves some travelers are thinking outside the box. From an ecotourism mecca in Costa Rica to the ski slopes of Colorado, these trending destinations clearly have a lot to entice holiday travelers.
Travelers can visit the Expedia COVID-19 travel resource page for information to make informed travel decisions.