My Interview with The Bad Guys Director Pierre Perifel and Author Aaron Blakey
On Tuesday I had the opportunity to speak with the Director of the upcoming Dreamworks Animation film The Bad Guys along with the author of the book series of the same name.
I wanted to know why? Why write a book about a wolf as the lead character and why create a movie with the same concept. Growing up most of us were taught that a wolf meant bad or evil. Think about the Three Little Pigs. The pigs are the constant targets of the "Big Bad Wolf," who schemes to devour them. Or Little Red Riding Hood, the  fairy tale about a young girl and a Big Bad Wolf.
Even though I pride myself on not judging people by their reputation after listening to author Aaron Blabey answer my question "Why a book about a Wolf?", I realized that I was being close-minded and yes judgemental.
Do not judge, or you too will be judged. 
He shared with me that he couldn't find books for his son to read as a child that kept him engaged while teaching him life lessons on being kind to others.
You're probably wondering what does any of this have to do with an animated movie with a Wolf as the lead character. Well, the answer is EVERYTHING.
After a life of crime, Mr. Wolf and his criminal crew decide to become one of the good guys as a way to stay out of jail. They soon realize that doing good not only feels good but it gives them what they've all been longing for…. acceptance. Something we all want in life. To have a sense of belonging…to do good.
Beloved, do not imitate evil but imitate good. Whoever does good is from God; whoever doesevil has not seen God.
I finished up my line of questions by asking Director Pierre Perifel was it a coincidence that the movie is coming out now (it hits theaters April 22nd). He shared with me that "the Universe has a way of making things come together." and he was absolutely right.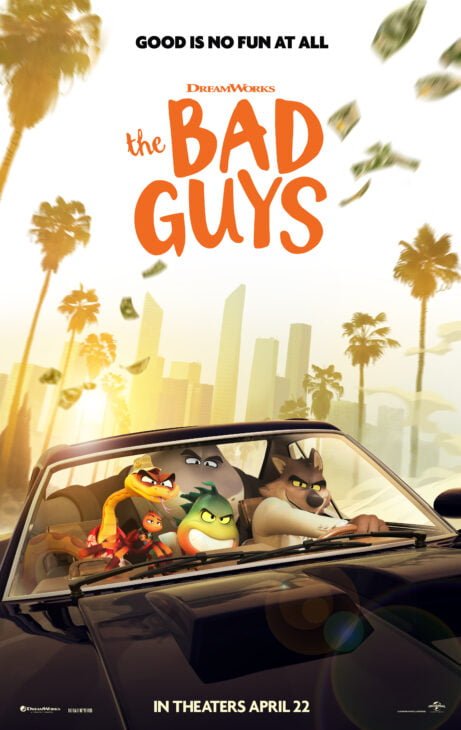 I believe the universe is trying to show us that there is good in all of us and that even the worst of us can be transformed by the renewing of our mind.
Check out The Bad Guys book series HERE
IN THEATERS APRIL 22nd!